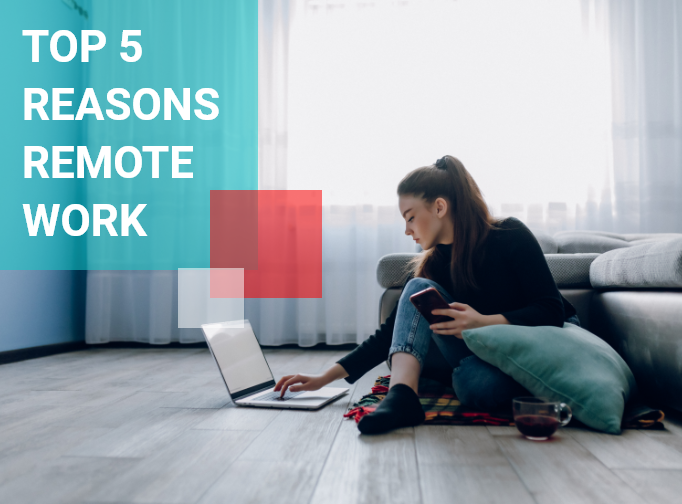 Top 5 Reasons Why Remote Work Is Here To Stay
The lasting effects of workplace disruptions from the coronavirus pandemic are reflected where millions of employees transitioned from offices to their homes. Most of these employees were adjusting to a new way of working for the first time.
Despite the negative orientation of remote work, companies and employees have now realized the positive impact of working remotely such as reduced costs, employee satisfaction and enhanced productivity.
Many large firms, including Facebook, Twitter, and Nationwide, have changed their workplace policies to allow their employees to work remotely indefinitely. Remote jobs have become a permanent aspect of business operations even post-pandemic.
We are sharing five solid reasons why remote work is here to stay.
1. Global Talent Pool
By tapping into pools of remote workers, organizations offering remote work have a better chance of attracting high-caliber candidates. Many of these untapped talent pools include people living in rural areas; others outside the mainstream workforce, like stay-at-home parents, individuals caring for elderly relatives, and gig workers and retirees.
Companies no longer have to operate within their country's borders and rely on their geographical location for recruiting the right talent. They can now hire remote workers globally and recruit talents from around the globe.
2. Employers Save Money
The remote work model can drastically reduce rental and utilities and infrastructure costs which makes it a profitable company. Based on the location, employers can acquire and retain the skills as required at less competitive costs. A remote workforce can significantly reduce overheads and benefit from saving monthly expenses for employers. They are likely to take unexpected days off and coordinate appointments because of the work flexibility.
3. Employees' Save Costs
A remote workspace is also extremely economical for employees. Having to no longer commute to the office means reduced expenses on things like fuel, commuting fares, and dry cleaning, clothes, and grooming.
4. Increased Productivity
The pandemic has broken the misconceptions of remote work. The reality hit way differently. Remote workers are more productive and typically spend long working hours, as they're no need to commute to work, saving time to work for employees. A Stanford study suggests some employees perform best from home. It is increasingly recognized that productivity standards are most clearly aligned with the company's overall objectives.
There is a massive improvement of 13% in performance of people working from home. Free from the stress of commuting, office distractions, and complex systems, remote employees are more focused and produce high-quality work. With flexibility, they are also willing to put in extra hours to get the job done. In turn, this leads to higher output, higher employee engagement, and improved efficiency at the company as a whole.
5. Healthier Work-Life Balance
Remote work gives employees the flexibility to adjust their schedules to their work. They're able to manage day-to-day chores, homeschooling, and exercising without negatively affecting the productivity of their days. Employees feel happier, more relaxed, and more in control of their life; as a result, they are less stressed and productive.
A healthier work-life balance improves retention rate and employee satisfaction. Companies should be flexible as possible, all they need to do is trust your remote workforce and they will deliver great results.
The Future of work
The world is eventually recovering from the pandemic. Progressive organizations are likely to embrace more flexible work models that empower the workforce. Business leaders are retrospect of lessons learned from the pandemic crisis and will be functioning according to foreseeable future demands.
Out-of-the-box approaches and the adoption of technologies have connected employees to deliver another level of agility during the crisis. It is safe to say remote work will continue to expand to acquire new opportunities to remain relevant and to survive.
Zapoj is a critical event management and team collaboration platform engineered for remote teams to enhance productivity and prevent disruptions at the same time. Build and manage highly productive teams anywhere with ease using Zapoj's Workspace. To know more about how you can strategically plan and execute remote work models, book a demo today!