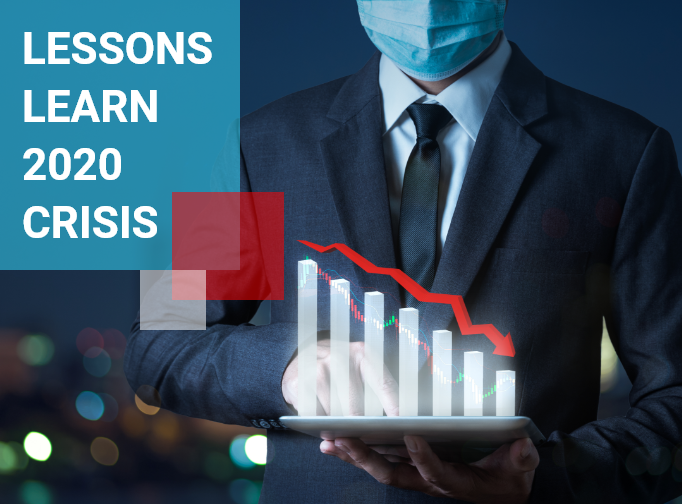 Essential Workplace Lessons to Learn from 2020 Crisis
The pandemic has accelerated existing trends in remote work and automation. Companies imposed a rapid transformation in the business operations to keep the business afloat during the crisis.
Adopting new technologies and methodologies was hardly conceivable in 2019. This has led to changes in conventional attitude to office environments critical to productivity and culture. Remote work is effective with significant performance and higher profits.
Surprisingly, effective technologies for video conferencing, collaboration, crisis management, and more forms of digital technologies were quickly evolving to fill gaps in communication. In most cases, the results have been better than desired, giving rise to corporate flexibility.
According to a Gallup survey report, 54% of U.S workers would leave their current job for one that allows them to work remotely. The workforce transformation was overwhelming, while some went down the hill, many enterprises and emerging growth-stage companies were thriving to sustain production, bringing major focus to leadership.
Moving forward, it has become crucial for businesses to learn from past workplace lessons and plan for any future contingencies.
Remote Workers Are More Productive
Working from home is nothing new, companies were tentative of managing employees remotely, with efficiency and productivity. The health crisis forced many companies to adopt the remote work model and they're finding it more productive. Many companies have experienced success, remote work is here to stay.
Gartner survey among CFOs reveals that 1 in 5 respondents are expecting 20% of their employees to continue working from home in 2021. Not only businesses can save on renting space, but operational expenses and employees can also avoid frustrating commutes thus increasing productivity and higher morale.
Communication Is The Key
Many organizations realized their communications during the outbreak were lacking in cohesion and crisis management was nonexistent. Emails were not the most efficient way to communicate.
To maintain the employee workflows and in the event of a company-wide situation, communication is vital. Efficient communication ensures productivity and prevents misinterpretations. But now, tech-savvy apps have made communication much easier with texts, audio, or video calls all in one platform.
Cleanliness and Hygiene Is a Priority
Companies should pay extra attention to maintaining a clean environment and hygiene across the work environment. Right from implementing proper COVID-19 safeguarding and protocols, cleanliness seems to be at the forefront of everyone's mind.
Organizations are providing hand sanitation stations in a highly visible area to aid and encourage workplace cleanliness for the employees to practice disinfecting hands. Frequent sanitization for high-touch surfaces is imperative to avoid the risk of spreading infection.
Plan for a Crisis
The new sets of changes demand fresh thinking and in terms of workplaces is more decentralized. Lacking a crisis management plan was a critical mistake in 2020. Companies having a crisis strategic plan is mandatory. While the rise in profits may be slow, a sustainable plan is always a good idea.
Organizations can retool and consider setting aside funds for weather disasters, rather than others. Even if it's not 100% accurate, 90% of the time is better than no plan at all.
Invest in tech
Technology investment for each company looks different. Employers must provide everything that employees need to succeed. This includes laptops, tablets, headsets, and possibly a basic workspace setup. For employees who often work on multiple screens, an extra desktop monitor can also help in productivity. It is also important to invest in network security and IT talent to navigate and troubleshoot the challenges of remote employees.
By facilitating, communication channels you can enhance engagement and productivity across your team. A suite of project management tools can help managers to keep track of the projects and measure the productivity levels. These tools enable the team members to act fast and responsibly with data-backed insights to achieve the desired goals.
Upskilling Is a Strategic Advantage
Ongoing learning has become a bigger part of the employment landscape. As many organizations realize that upskilling is essential for innovation and growth, they involve in-person workshops and seminars to train employees for certain functions or a certain population of the company.
Focus On Employee Experience
Progressive organizations communicate openly and frequently about how they support the well-being of employees despite cost-cutting measures. Where possible, explore the possibility of talent-sharing arrangements with other organizations to help relocate employees displaced by COVID-19.
By providing them with a similar user experience to how they surf outside the firewall, you can give them choices, flexibility, and personalization.
Resilience Wins
Covid-19, a black swan event, unexpectedly changed the way businesses operate. We should consider the possibility of further exogenous events. Companies must be able to withstand setbacks and become robust at a moment's notice.
An organization that can rethink its business model rapidly to suit market conditions will have a better chance of survival than one that cannot. The pandemic has shown it's important to promote innovation in your organization. It requires a willingness to embrace new ideas and a willingness to take risks.
Conclusion
Many studies indicate that the remote workforce is both more productive and engaged than on-site workers, leading to greater business outcomes. Read our complete guide on how businesses can prepare for remote workspace.
Leaders in the business arena are responding swiftly to the transition to the new normal by protecting employees and migrating to a creative culture offering a sense of belonging and shared purpose without fostering a sense of deprivation among remote workers.
By integrating the right technologies that the employees use, the digital workplace breaks down communication barriers, fostering efficiency through positive experience, innovation and growth. However, you need a proactive approach to effectively implement a digital workplace.
Zsuite is a critical event management platform that enables business leaders and HR to act proactively before and after the crisis. All-inclusive technology is powered by AI that helps you identify threats, incident management, action plans, proven workflows, and more tools for you to be future-ready by capturing data from reliable sources for different critical events for your visualization. Request a demo today!