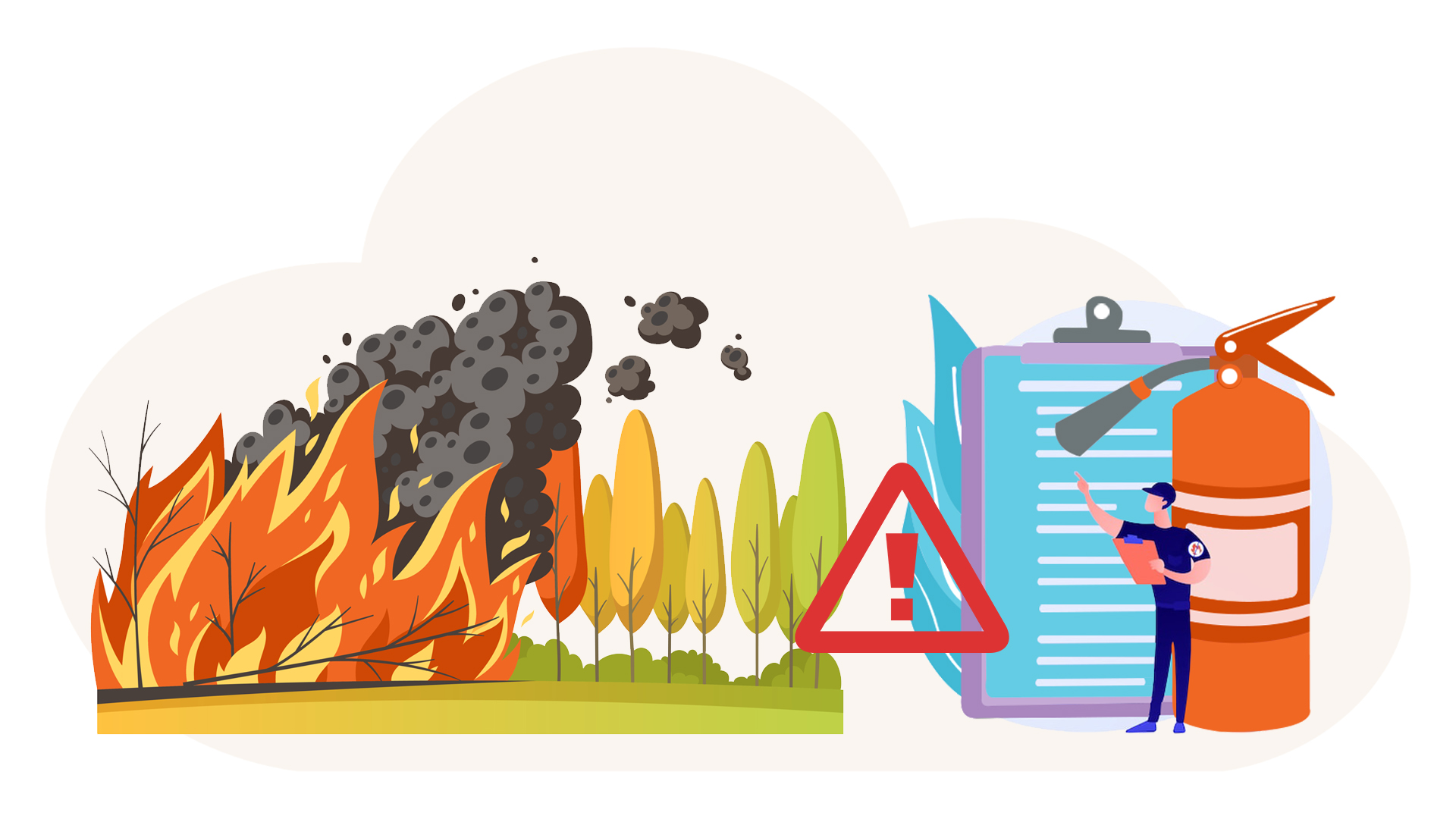 Wildfire readiness: plan & respond to an increasingly common risk.
Unlike hurricane seasons or monsoons, there is no longer a single prescribed date for the start of the wildfire season. The U.S. Department of Agriculture has argued wildfires are now year-round for much of the U.S., having burned approximately 3 million acres already in 2022. In Australia, bush fires can happen at any time of the year and vary significantly by region, some now occurring in areas that typically didn't burn in the past.
Recent years have seen record-breaking wildfire seasons from other parts of the world from Europe and Siberia to South and North America. In particular, as of mid-July, countries across western Europe are battling intense blazes fueled by an historic heatwave that have forced thousands to flee and caused several deaths. And, according to a recent U.N. report, uncontrollable wildfires are projected to increase globally by 14 percent by 2030, 30 percent by 2050 and 50 percent by the end of the century. 
If these projections hold true, the risk to people, biodiversity and ecosystems would be even more devastating and harder to protect against. As such, the need for public sector organizations to enhance their wildfire preparedness and response plans is more critical now than ever. 
The role of AI-Powered Risk Intelligence information in wildfire response
Monitoring climate variables such as droughts, low humidity, high temperatures and strong winds ​​helps agencies spot potential wildfires. While tools like the European Union's Global Wildfire Information System which provides a comprehensive view and evaluation of fires play a pivotal role in wildfire preparation and response, access to real-time information is equally critical. The latter ensures public sector agencies have the most up-to-date information on risks and events as they occur, including changing weather conditions and unsafe human activities.
For example, local agencies and first responders can receive real-time alerts on wildfires through Visual Risk Intelligence , a Zapoj CEM platform  product for Safety and Security. It cross-correlates official weather statements and sensor data with eyewitness accounts to provide an early, comprehensive line of sight into wildfires. This prevents delayed, misguided reactions; enables timely, coordinated emergency responses and teams to more easily connect affected communities to rescuers, local governments and surrounding communities before, during and after a fire.
Steps to take in preparation for wildfires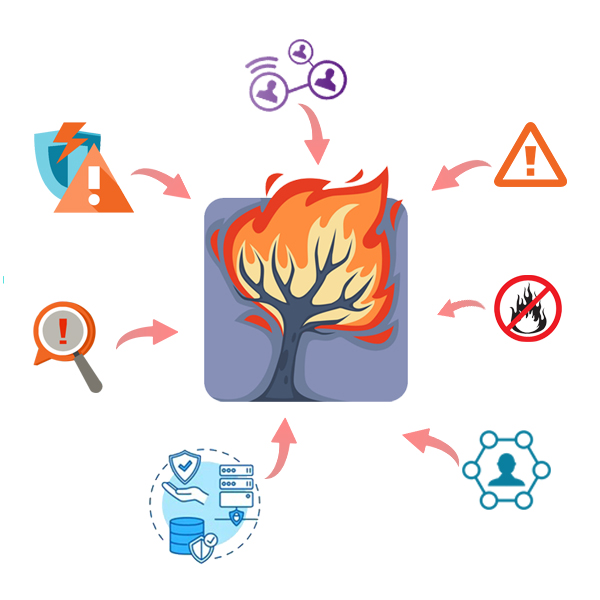 Here are seven practical steps you can take to mitigate the impact of wildfires on the communities you serve:
Identify risks proactively.

Leverage real-time information, such as the breaking news alerts provided by News agencies and social media, to ensure you can enable the fastest, real-time response to wildfires and their cascading effects.

Conduct a vulnerability assessment.

Determine the spatial proximity of population groups and critical infrastructure to potential wildfires. Then, enhance wildfire response preparedness in areas more likely to experience large, long-duration fires, or areas more likely to experience high rates of structure loss per area burned.

Raise community awareness.

To enhance and ensure the effectiveness of initial response, promote and emphasize both structure protection and wildfire prevention in your communities via educational resources and programs, such as signage, classes, radio and news releases, etc.

Create an emergency response plan.

Establishing or revising your plan can save lives and minimize financial losses. Develop resources and protocols. Plan to have enough emergency kits and evacuation routes for each of the communities you serve. Identify shelter areas. Where possible, run emergency response drills to ensure your communities know what to do during a fire.

Prepare for smoke.

High levels of fine, noxious particles in the air can cause serious health issues for people who live near or respond to affected areas. Protective masks and heating, ventilation and air conditioning (HVAC) systems are crucial. Even when fires are considerably far away from where your communities are, residents and first responders can still be affected by the smoky haze brought over by weather patterns. 

Communicate with key stakeholders early and often.

Providing all stakeholders access to reliable, real-time information can accelerate your response and ensure it's strategic. Establish open lines of communication between partners at the federal, state and local levels, as well as between and across relevant departments, and maintain them during and after a wildfire.

Safeguard your people and data.

If your agency is operating in an at-risk area, it's critical to minimize disruptions to your services. Develop a process for securely transitioning onsite employees to remote work and activate your continuity management plan, which should cover IT operations, supply chains, etc. Ensure employees in the field have access to real-time information relevant to their location, so they can stay safe and aware of changes to their surroundings.
Wildfires are a rapidly rising threat to organizations and communities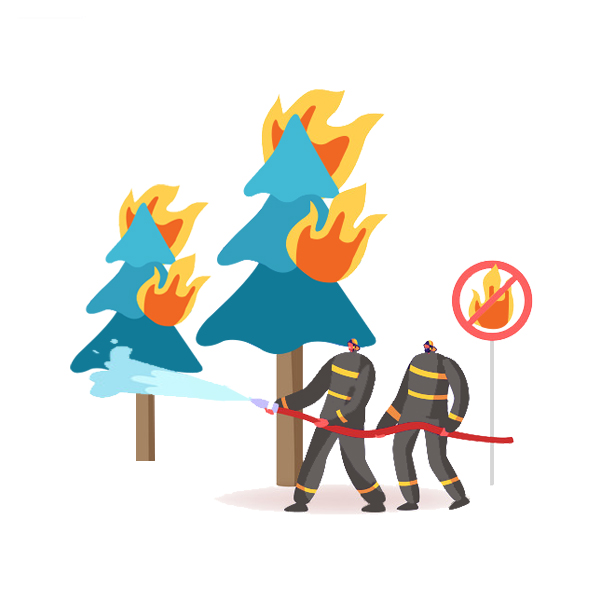 around the world. In the U.S., the total area scorched by wildfires to date in 2022 is the most at this point since 2018 and, for early June, is  more than double the 10-year average. In Australia, the country's environment is struggling to fully recover to its pre-fire state—despite having long evolved to adapt to fire—due to the unprecedented frequency and intensity of fires in recent years.
But with a proactive response strategy and the right real-time information, local and national agencies and first responders will be able to address infrastructure and service issues quickly and more strategically, while accelerating efforts to save lives.