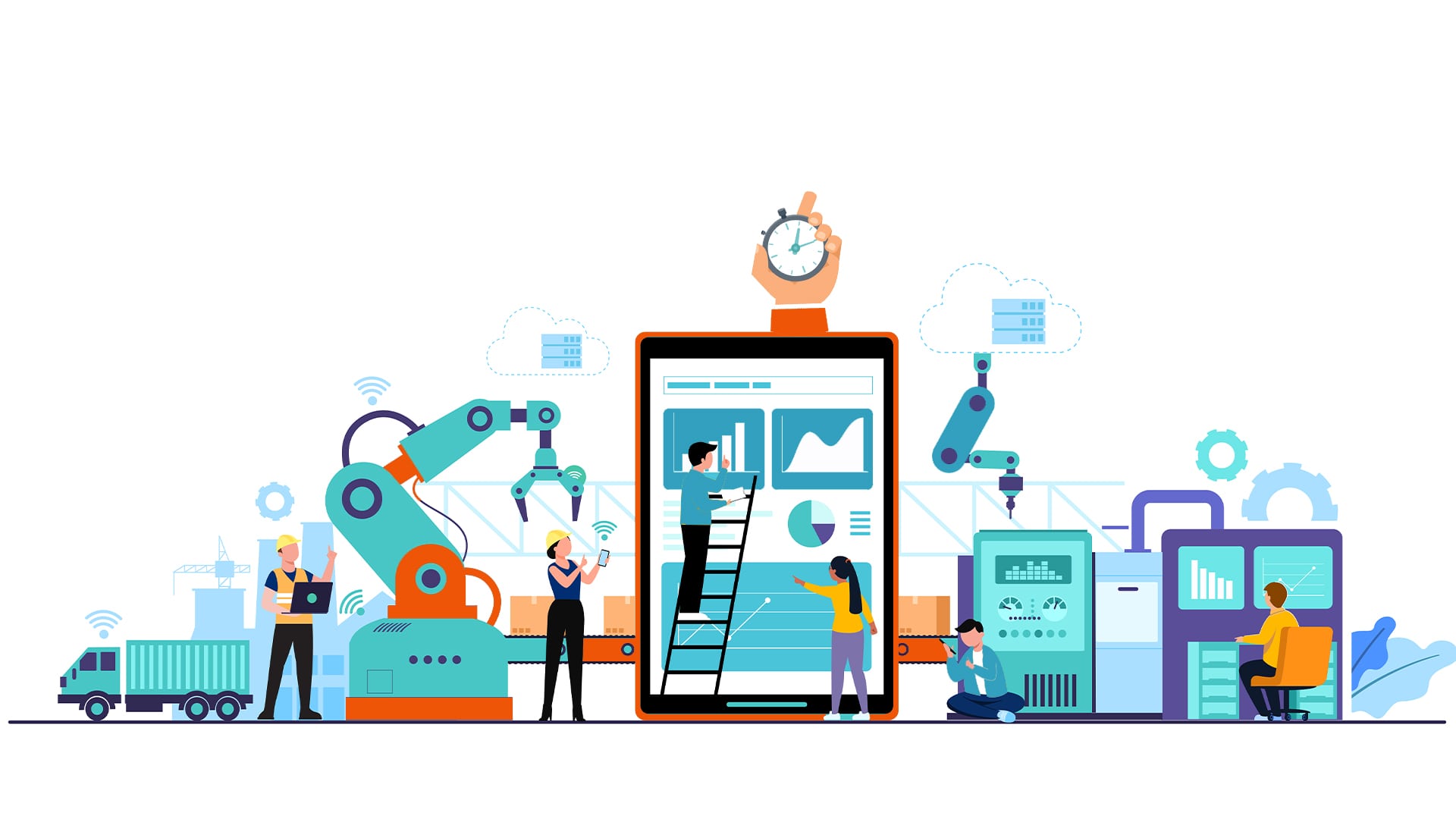 Bring Critical Event Management to Prevent Unplanned Downtime
Recently manufacturing industries have become increasingly interested in combining smart technologies into manufacturing operations. This particular smart infrastructure aims at shoring up AI technologies to facilitate automation that could reduce human resource burden and manufacturing costs. In addition to improving productivity and enhancing manufacturing efficiency, executives or leaders want to align key objectives of manufacturing resiliency with core goals of keeping equipment operable all the time.
Managing risk to equipment encourages the prevention of equipment failure. This is where manufacturing leaders must have the assurance of data becoming available to them.  By leveraging data from IoT sensors integrated with facility machines or machinery, they can achieve situational awareness and visual risks intelligence together when combined with the critical event management platform. With our CEM platform Zapoj, facility managers can better handle data and prevent equipment breakdown.
Combating manufacturing equipment failure
The idea to leverage data and use them for analytics is practicable to trace types of equipment failure or identify in which facility or plant the machines are susceptible to risk failure. At the heart of the analytics, location intelligence, pulling in data, allowing security information officers to identify predicted failures. Where they locate the vulnerabilities, they collaborate with stakeholders, risk management representatives, and peers to decide potential recovery efforts and make data-driven decisions to adapt to future scenarios.
Integrated with location intelligence and visual risk intelligence - which Zapoj harnesses to combine into its critical event management platform or CEM,  some manufacturing industries are able to mitigate unplanned downtime in manufacturing.
Manufacturing industries, however, are continuously facing challenges in keeping their facilities operable with machines and equipment experiencing a higher rate of exposure to unplanned downtime.
So, how long does manufacturing take to resolve machine failure depends on Mean Time Between Failure and Mean Time To Repair. 
The financial risk of equipment downtime
The equipment downtime costs large manufacturing facilities hundreds of millions of dollars each year.
As per a study shared by Senseye, machine failures cause manufacturing industries to suffer lost production worth of more than a day each month. 

The

'True Cost of Downtime'

stated the following statistics.

Machine or equipment failures result in 323 hours of production loss annually. 

The financial risk amounts to

$532,000 hourly and $172 million annually

because of lost revenues, missed productivity, and time needed to resume the work. 

Unplanned downtime costs Fortune Global 500 companies 864 billion due to 3.3 million lost hours annually. 

FG500 automotive manufacturing businesses are estimated to lose $557 billion annually.

FG500 FMCG manufacturing companies lose $35 billion a year, while small-scale FMCG manufacturing facilities suffer financial losses worth $23,600 per hour for machine failures.

Mining manufacturing companies lose $1.2 million a year to machine downtime.

Oil and gas suffer unplanned downtime, amounting to $84 million worth of financial losses. 
As a preventative measure, predictive maintenance brings much-needed strategic support to manufacturing leaders. However, predictive maintenance can only provide efficiency when combined with the accuracy of predictive analytics that harbors data in massive quantities and helps predict every specific event or scenario. 
The role of critical event management platform 
The solution to implementing the predictive strategy to move out of unplanned downtime and costly financial risks is by getting a critical event management tool, that improves monitoring on the factory floor, each part of equipment in dispersed plants using machine learning.
By capitalizing on machine learning-based visual risk intelligence, Zapoj can improve predictive analytics. Manufacturers thus can build data-backed predictive maintenance strategies to timely resolve machine failure as the CEM tool shrinks duration between Mean Time Between Failure and Mean Time To Repair.
Combine data to achieve real-time risk intelligence
Unplanned downtime of critical equipment in manufacturing can occur inadvertently or without notice. Many times, these events can happen because of a few conditions- 
Heavy water damage to machines or equipment causing jams between parts

Part failures- pumps, sensors, bolts, belts, or motors rust or wear and tear for prolonged use

Water or oil leaks at the factory site stopping operations

Lack of maintenance, or inadequate scheduled maintenance 

Unavailability of operators on the floors to manage and restore the failure
Predictive analytics is key to predicting a set of certain conditions that may reveal if machine failure is expected. Leaders have long started using IoT sensors to build connected chains of devices or equipment. Sensors on machines or equipment continuously record performance behavior and status. With Zapoj harnessing these event feeds, it helps filter only those events, which are prone to risk.
For example- the temperature and vibrations are set to some specific control. Big data or IoT monitors if machines are having the right temperature or vibration control. Any type of anomaly if detected, Zapoj develops situational awareness, which further helps in gaining visual risk intelligence to anticipate the specificity of failure. This is how Zapoj reveals the context of dynamic and minor cases and facilitates maintenance tasks for manufacturing leaders or executives.
Mitigate with predictive maintenance alerts
As Zapoj prescribes the maintenance tasks, the factory floor operators or emergency responders need to receive alerts in real-time to prevent unplanned downtime. With visual risk intelligence, when leaders can anticipate risk to critical equipment or machines, they prioritize collaboration and communication.
Creating a conference bridge speeds up the collaboration and decision-making with key stakeholders, peers, partners, and emergency responders.
Two-way messaging is available on a multimodal path, so operators or responders in charge never miss a critical alert. Manufacturing leaders can immediately take corrective action to reduce the unplanned downtime risk. The whole process of preventing unplanned downtime can actively reduce time to tackle the situations.
Identify the location with accuracy
The proactive diagnosis of predictive failure significantly advocates for end-to-end maintenance, so location plays an important role to reach and reduce the impacts of failures before it emerges as a bigger threat and spurs the risk of indefinite closure.
Generally, manufacturing leaders cannot make most of the alerts or signals as they lack geospatial accuracy, which hinders their ability to identify the right location of incidents involving critical equipment failure. With limited location information, they can trace only rough locations, impeding their maintenance or restoration efforts.
Zapoj has embedded location intelligence, which efficiently sieves through thousands of data, builds a common operating picture to allow analytics or emergency responders to trace the location of an event. Further, it helps geolocates the exact location where the assets are located and help address the issue in real-time.
Conclusion
We discussed how unplanned downtime due to critical equipment failure becomes a headache to manufacturing leaders. The inability to prevent or reduce the frequency of machine failures or operation disruptions can increasingly add to lost revenues. However, Zapoj with its AI-powered analytics capabilities can help reduce the risk of unplanned downtime, enhancing operational efficiency across the manufacturing facilities. Integrating Zapoj critical event management not only does help boost better coordination between plants by amplifying the production performance and providing better control of machine productivity. As a result, manufacturing leaders can explore different ways to save costs on costly repair or maintenance or disruptions, bring production efficiencies that enhance cost-effectiveness, and expedite revenue growth.
Learn more about Zapoj to reduce unplanned downtime in various manufacturing industries. Or schedule a demo to advocate smart manufacturing.